CLIPLICIOUS, also known as YouTube, is the website that Audrey Jensen's viral video was leaked and uploaded in Pilot by Nina Patterson and Tyler O'Neill.
Appearances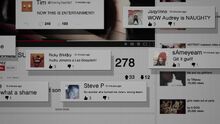 On the night of September 30, 2015, Audrey Jensen and Rachel Murray make out passionately and kiss at George Washington High School's parking lot.
However, this reveals to be a phone-shot sequence as a keyboard types the following words: Audrey's FACESUCK EXTRAVAGANZA and is uplaoded to Cliplicious. As the video instantly goes 'viral', comments pop up on the screen, numerous people commenting Audrey as a lesbian and other derogatory comments.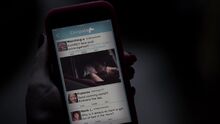 After the viral video is uploaded to YouTube and other websites, Audrey becomes completely mortified.
Soon after, the video reveals to be filmed by Nina Patterson with the help of her ex-boyfriend, Tyler O'Neill. As Tyler drives Nina to her house, they talk about the successful viral video as a prank. Nina checks her phone and on Chirpster, the video has 500 views "and counting".
However, Tyler and Nina are both brutally murdered that same night by an unknown killer.