Dara
Biographical Information
Full name
Dara Aldean
Age
17
Eye color
Green
Hair color
Brown
Occupation
High School Student
Status
Deceased
Nickname
Relationship Information
Family
Friends
Enemies
Other Information
Interests
Talent(s)
Secrets
Strengths
Weaknesses
Education
George Washington High School
Death
Throat slashed; blood loss
Cause of Death
Throat slit open with hunting knife by Brandon James; blood loss
Date of Death
October 31, 1994
Murderer
Brandon James
Series Information

Season(s)

One

Powers / skills

Wanna Play A Game?

Last appearance

The Dance (photo)

Latest appearance

Wanna Play A Game?

Dara Aldean, also known as Victim #1, is the first victim of the Lakewood 1994 Murder Killing Spree. She is portrayed by Taylor Murphy.
Dara is possibly killed by Brandon James. She is the first victim of the 1994 Killing Spree.
Season 1
Dara is seen running in fear across a field. She unknowingly bumps right into Brett Keener. A panicked and scared Dara asks Brett what he did to Brandon. "What he deserved." Brett replies, looking around.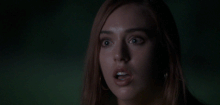 Once Brett turns back around, he looks in horror. Dara starts choking and reveals that her throat has been slashed open.
Helpless, Dara continues choking on her own blood as she falls to the ground, dead.
A picture of Dara's body is shown for a brief moment in the beginning of the episode.