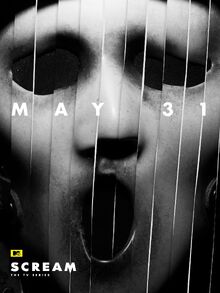 Season 2 was confirmed by MTV on July 29th, 2015. The season premiered on May 30th 2016 and the finale aired on August 16th 2016. A two hour Halloween special concluded the season on October 18th 2016.
Synopsis
Season 2 picks up three months after the death of the Lakewood Slasher, Piper Shaw. This season will give an insight on the lives of the Lakewood Six, the survivors of the modern Lakewood killing spree. As the survivors start to begin their lives, a new killer comes into town.
The killer starts harassing the survivors, and Noah assumes that another accomplice of Piper is picking up the slasher game from last time. As the survivors try and get to the bottom of the mystery, they encounter danger all over again. Audrey has a secret, Noah becomes obsessed with the killings, Kieran experiences trauma after his dad's death, Jake and Brooke start a relationship, and Emma comes back to Lakewood from an extended therapy retreat. The question of this season is, who will survive and who will die. Only the person behind the mask will know.
Cast
Main Cast